1. Museums to choose from
There is nothing like a winter day to plan a visit to one of the famous museums on Museum Square. Do you fancy a visit to the Rijksmuseum, Stedelijk Museum or Van Gogh Museum? Or would you rather discover a less well-known gem, such as the Museum Ons' Lieve Heer op Solder? In this canal house from the Golden Age, you'll find a church in the attic!
2. A winter cruise along the canal
If you're in Amsterdam, you'll almost certainly take a cruise along the canal. Our tip? This winter, opt for a cruise after sunset. The city lights will be reflected beautifully on the water. It's an extra touch of magic, guaranteed!
3. A drink by the fireside
Fires crackle in many Amsterdam bars during winter. Wherever you find yourself in the city, there's always one nearby. Wander into the cosy Hannekes Boom close to Centraal Station, plonk yourself down by the fire in the welcoming Café Zurich in Amsterdam-West, or warm up by the hearth in the hip Pllek in Amsterdam-Noord. You'll get a beautiful view of the river IJ for free.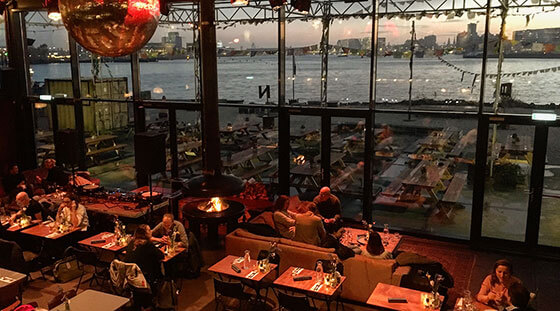 Pllek, Amsterdam-Noord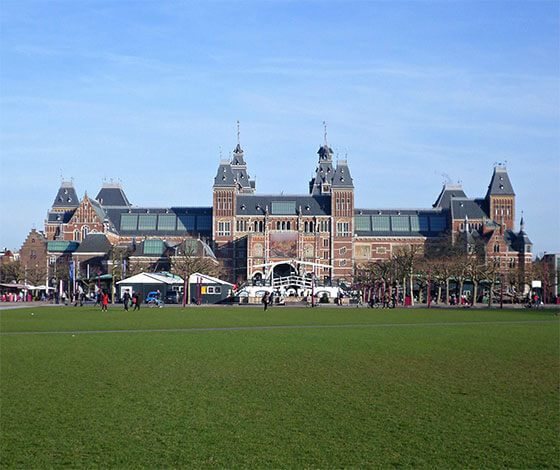 4. Shopping
If you're looking for a new outfit, an original birthday present or a new addition for your bookcase, Amsterdam is also the place to be. Forget about the large chain stores and head for the cute boutiques in the 9 Straatjes, find an interesting knick-knack in the Jordaan and spend an hour (or two) in the bookstores at Spui. If you visit the city on a Friday, be sure to also pass by the book fair with used and antique books.
5. Stay indoors ;)
Amsterdam is, of course, a wonderful city to wander around in. But if it's really too cold, or the rain has ruined your plans, there's still more than enough for you to enjoy. You could, for example, treat yourself with a trip to the cinema. And if you think there's nothing special about that, just wait until you see the spacious auditorium at Pathé Tuschinski. The room's splendour will be drawing your attention away from the film before you know it!